Gulf Regional Early Childhood Services (formerly GRCMA, Inc.) has been approved as an Accredited Provider by the International Association for Continuing Education and Training (IACET), 1760 Old Meadow Road, Suite 500, McLean, VA 22102. In obtaining this approval, GRECS has demonstrated that it complies with the ANSI/IACET 1-2007 Standard which is recognized internationally as a standard of good practice. As a result of their Authorized Provider membership status, GRECS is authorized to offer IACET CEUs for its programs that qualify under the ANSI/IACET 1-2007 Standard.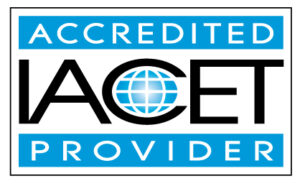 What is IACET?
The International Association for Continuing Education and Training's (IACET) mission is to promote and enhance quality in continuing education and training through research, education, and the development and continuous improvement of IACET criteria, principles, and standards. The organization is an accredited Standards Developing Organization by the American Standards Institute (ANSI) and is an authorizing body for education providers that meet the American National Standard for continuing education and training (ANSI/IACET 1-2007 Standard). The IACET standard is what learners seek for quality and is the core of thousands of educational programs worldwide.
What is an IACET Accredited Provider?
The IACET Accredited Provider (AP) status means that an organization adheres to IACET's internationally recognized ANSI/IACET 1-2007 Standard for Continuing Education and Training. Only Accredited Providers may award IACET Continuing Education Units (CEUs).
What is a CEU?
The Continuing Education Unit (CEU) was created by IACET as a measurement of continuing education. One (1) IACET CEU is equal to ten (10) contact hours of participation in an organized continuing education experience under responsible sponsorship, capable direction, and qualified instruction.
How do I receive CEU Credits from GRECS?
The number of CEUs granted for each course is available on our quarterly training calendar, Early Learning News. You can also find this information under training event details in the Calendar of Events section of this site. Units are assigned only to those courses deemed qualified for accreditation by GRECS.